Water Slide Rentals Youngstown, OH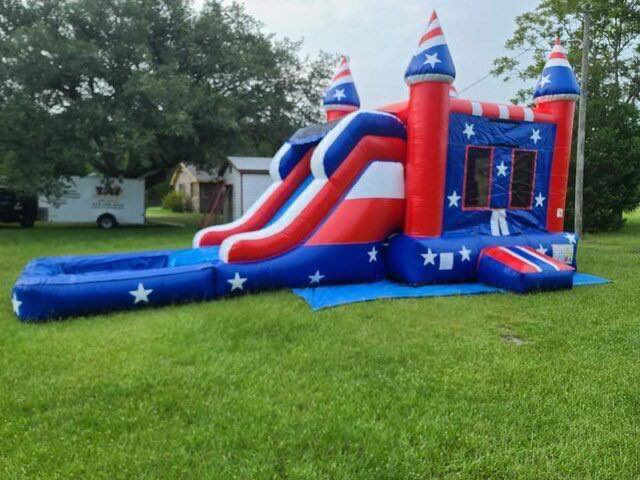 Who's ready for some wet and wild fun in Youngstown, OH?
When it comes to water slide rentals and bounce houses in Youngstown, OH, Confetti Event Rentals has the highest quality inflatables any Ohio resident would be proud to hire. Is your next fast approaching? Are you looking forward to an entertaining event full of excitement? It's easy to have all the fun you want with our gorgeous selection of water slides, moonwalks, obstacle courses, mechanical rides, and much more. Whether it's a family get-together, a Halloween party, or a school carnival, we have the right equipment for your event

We are Youngstown's biggest inflatables supplier, whether you are organizing a party for your kids or a corporate event for your employees. We are a company of choice for every Ohio native looking for the best party experience punctuated with a great selection of party rentals.

Our team of dedicated event specialists and organizers has helped provide various play opportunities to party-goers in Youngstown for several years. We also continue to help corporations organize team-building events for their employees.

Areas we serve include Confetti House, Canfield, Hubbard, Girard, Struthers, and the surrounding areas.

We are an industry leader in the party rentals industry and strive to operate within the law. Our business is fully licensed and covered by a solid insurance plan, so you won't incur any liabilities if any unforeseen issue arises.

Get your water slide rental reservation for your next party today to avoid the last-minute rash when guests are almost arriving for the event. You'll also benefit from various promotions that we frequently run on our website.
Check Availability
Sorry, this item is not available either because the particular order options (customer pickup) are not available for this item or because the date and/or time you have seleted are not available. If you have any questions, please call our office at ...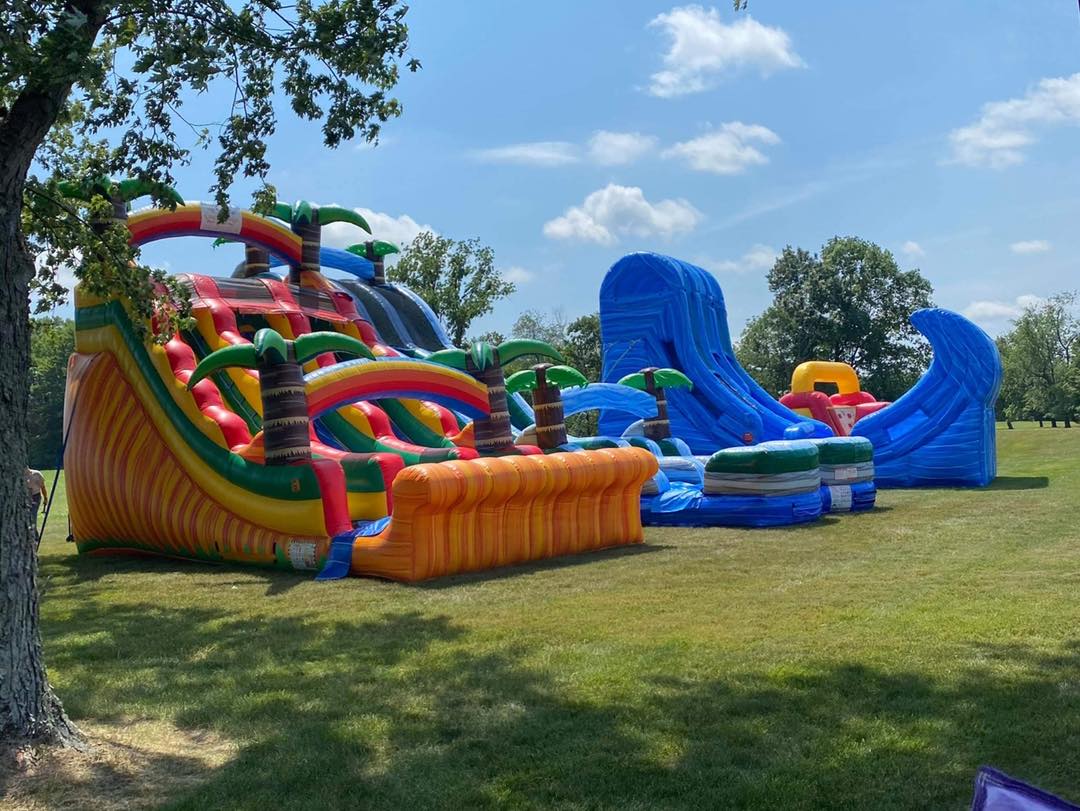 Different Types of Water Slide Rentals Available
Parties foster positive experiences and new friendships. That's why we rent out our event rentals at ridiculously affordable rates. We are happy to help friends and neighborhood families come together to slip and slide and organize competitions on our dual-lane water slides. Have you previously been served a raw deal with other rental companies that affected the entertainment at your party? Say goodbye to inadequate rental services with our customer-friendly event rentals that guarantee comfort, fun, and conversation for your esteemed guests.

Share those cherished memories you wish to have with friends and family as you play inflatable games and jump and slide on our bounce house combos. Not only are our inflatable rentals perfect for family birthday parties, but they are also a top choice for school events and carnivals, graduation parties, cookouts, and picnics. You will love the experience that you'd wish we had charged more for the inflatables. What can we say? We like making dream events come true.
Check Availability
Why Rent A Water Slide From Us?
Are you worried about the enormity of your upcoming event in Ohio? At Confetti Event Rentals,, we have been delivering bounce house rentals for over a decade. So regardless of the size of your event, we guarantee you a customer service that aligns with your needs.

We are well-versed with the needs of large and smaller parties, and we will tailor our service to your guests. Would you like us to set up an indoor play center for your next party? Don't worry! We have inflatables that fit indoors and would ideally be comfortable for your kids.

Additionally, don't worry about delivery because our team will deliver the rentals on time and set them up before your party starts. Be assured that someone will be on-site during the party if you need further assistance.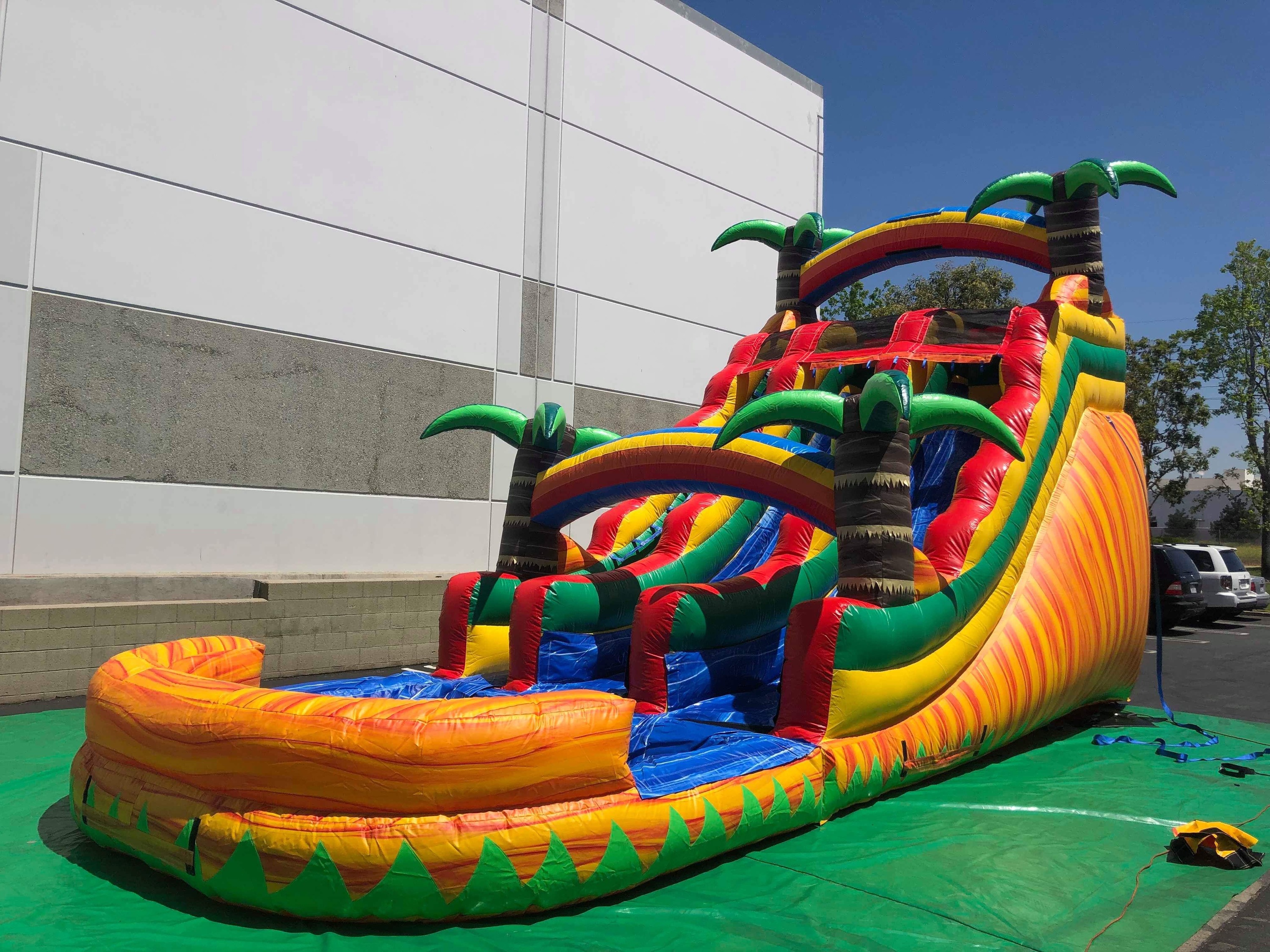 Competitively Priced Bounce House and Water Slides
We have made it quick and easy for you to rent your bounce house or water slide rentals for your party. With our user-friendly online reservation system, you won't struggle to try and find event inflatbles in Youngstown, OH. Just head over to our website and fill in the date your party will take place to see the available inflatables.

Our online catalog of inflatable rentals includes multiple designs and colors, so you won't fail to find a perfect bounce house or water slide rental for your special moment. We have worked hard to ensure customers have a seamless experience checking the availability of their favorite dunk tanks, obstacle courses, and jumpers.

Our online reservation system also makes it simple for you to pay your inflatables using various online payment methods. We are proud to serve you with high-quality rentals and provide the best value for your money.
Check Availability
How To Book Your Waterslide?
Booking a waterside is very simple. Finding the water slide(s) you want to hire, choose each one (make sure to check the dimensions to make sure they will fit in your backyard). Then go through the steps to book it.
Here are the steps:
• Select the water slide
• Add it to the cart
• Fill out the form with your information
• Process payment
• Sign our digital contract
We will then send you a confirmation email. You will also receive a mobile phone message a day before the water slide(s) are scheduled to be delivered. Our delivery team will also get in touch with you hours before delivering the items.
Our extensive collection of obstacle courses, bounce houses, water slides, chairs, tables, and tent rentals have resulted in repeat business with our previous clients. We hope to build a long-term relationship and continue providing fun at your future events. Whether you are organizing an indoor or outdoor event, we are ready to get all your guests' adrenaline pumping for the entire party.

We are always available to answer any questions you might have and willing to assist you in selecting the best inflatable rentals that your guests will love. So visit our website and fill in the relevant details to get your party started.

What fills events with excitement? A lot. For us, delivering the best-in-class water slides, bounce houses, and moonwalks reflects our passion and how we would wish to be served. We go above and beyond to ensure that the bounce house rentals we provide you are meticulously cleaned and sanitized. Your kids, friends, and guests deserve to play in bounce houses and obstacle courses that are safe, comfortable, and fault-proof. You can expect this when you hire us to provide fun at your party.

Safety is our number one rule, and you won't go wrong trusting our company to deliver the newest and cleanest inflatable rentals. So regardless of where you are located in Ohio, you will get the latest inflatable rentals with top-notch service. Contact us if you are located outside our delivery areas to organize your delivery.