Large Selection Of Water Slide Rentals Youngstown, OH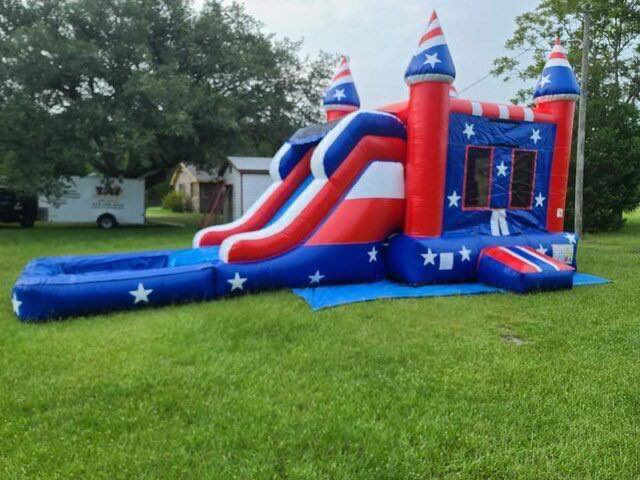 Who's ready for some wet and wild fun in Youngstown, OH?
Water Slide Rentals are one of the best ways to cool down during the hot Ohio summer. In fact, our water slides and slip n slide are amongst the most popular rental items, and we can't have enough of them in stock. Fortunately, we now have some of the largest, most beautiful water slides available, ranging from ones 14 feet tall all the way up to dizzying 26 feet. Now you have the perfect tool to beat the heat. Not only that, but you can be assured that every water slide is 100% safe, clean and free from defects. We will even set them up for you.

We've got water slides for kids as young as 3 years old and all the way up to adults. Yes! Adults love water slides too and don't be shy because we have quite a few for you too.

Not sure which water slide is best suited for your party? Our team can help you choose the right one. But be sure to book your water slide days ahead of time so that the ones you want are available. However, we make every effort to ensure that there are more than enough water slides to go around.
Check Availability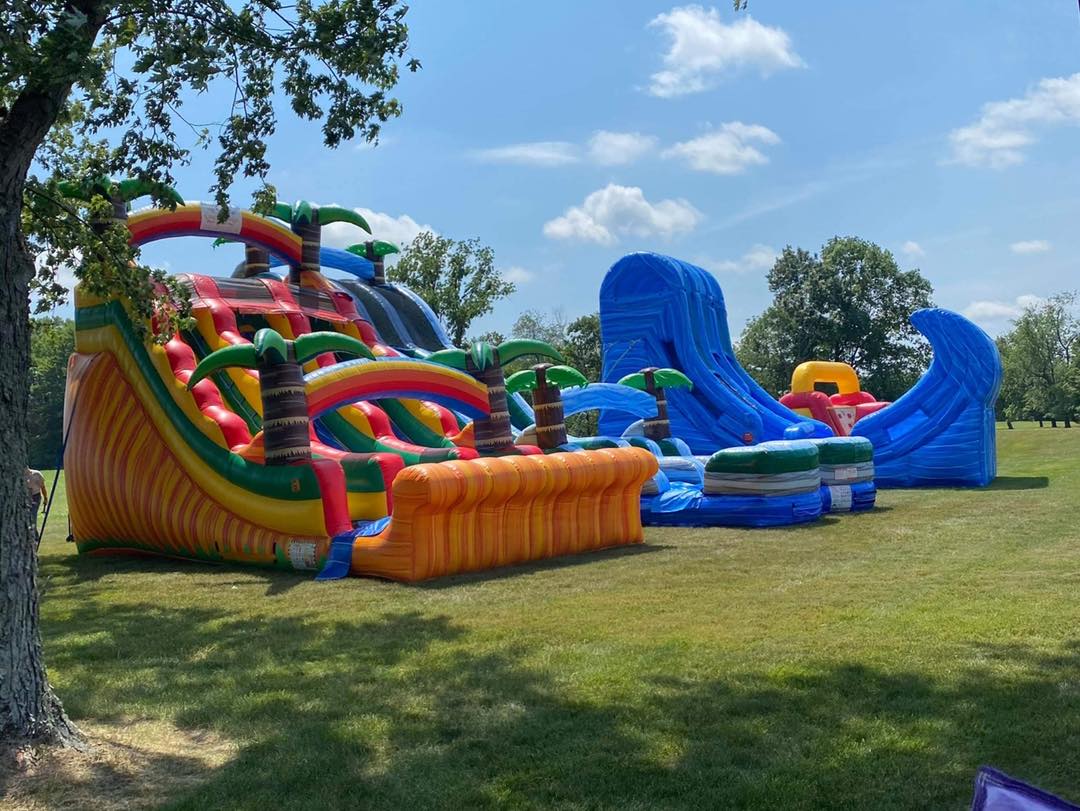 Different Types of Water Slide Rentals Available
Water slide rentals are a dime a dozen. However, most rental companies with water slides don't have the so-called "good stuff," but we do. We have different types of water slides, not only in different sizes but also in varying colors and shapes. That said, our large water slides and the double-lane water slide options happen to be the most popular. Teenagers love to race their friends to the bottom on two and three-lane water slides, which is why these are the ones we recommended for sweet 16 birthdays and other teen parties.

In addition to large and dual lane water slide rentals AZ, we've got more than enough small water slides for kids up to the age of 10. If you're planning a kids' party, we've got a wide selection of combos, with moon jumps and water slides, complete with basketball goals and various other features.

Kids simply love our inflatable bounce house rentals, trampolines, and water slides because it isn't scary. Furthermore, these water slides can be paired with interactive inflatables or concessions to ensure that everyone has fun, even if they don't feel like getting on a waterslide.
Check Availability
Why Rent A Water Slide From Us?
At Confetti House, we have been delivering inflatable water slides across the city of Youngstown for over a decade. We are a fully licensed and highly experienced company with a team that works to ensure that our clients are treated to the best experience. Our reputation, something we've worked hard to earn, has meant that we get calls from many surrounding areas. After all, clients trust us to ensure that they have the best experience.
Hundreds of 5-star reviews over the years speak for themselves. However, here are a few more reasons to choose our water slide rentals over others:
Free delivery and setup – The prices you see on our website include free delivery and setup. In addition, what's not mentioned, is it also includes deflating and removing everything you hire from your property after the rental period. So, you don't have to worry about these items on your property.
Great customer service – We have a team of professional customer service professionals that work with clients to ensure that they have the best experience. Whether you want to rent water slides, bounce houses, obstacle courses, or anything else, for your next event we are here to help you.
A large selection of water slides – At Confetti House, we have a large and growing selection of unique and fun inflatable water slide combo. As a company, we have the policy to continue adding the latest water slides we think our clients will enjoy, so there is always something new to hire.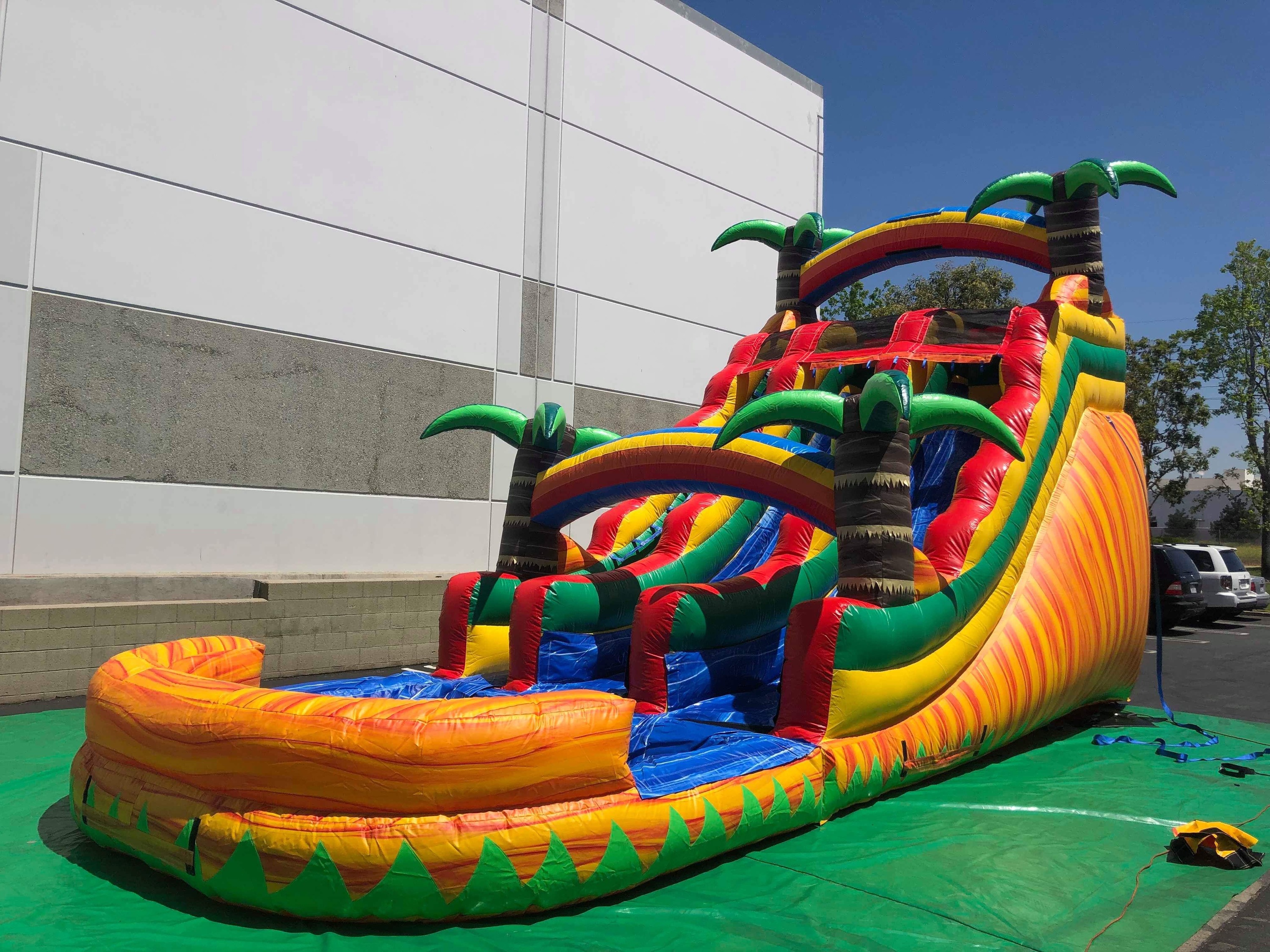 Competitively Priced Bounce House and Water Slides
We strongly believe that people don't have to break the bank to hire a few water slides and a bounce house for some fun in the sun over the weekend. That's why we've made sure that everything available is priced competitively. Also, our pricing is transparent, which means that you pay nothing more than the prices on our website.

In addition, we have budget-friendly water slides, and dry slides as well as more premium products. So, whether you are on a budget or looking to splurge for a big bash, you'll find our selection of wet slides more than fits the bill.

Need help choosing a water slide for your party or family event? Want to hire other party rentals? Feel free to get in touch with us today.
Check Availability
How To Book Your Waterslide?
Booking a waterside is very simple. Finding the water slide(s) you want to hire, choose each one (make sure to check the dimensions to make sure they will fit in your backyard). Then go through the steps to book it.
Here are the steps:
• Select the water slide
• Add it to the cart
• Fill out the form with your information
• Process payment
• Sign our digital contract
We will then send you a confirmation email. You will also receive a mobile phone message a day before the water slide(s) are scheduled to be delivered. Our delivery team will also get in touch with you hours before delivering the items.
Have a question about our water slide rental? Want to hire our water slides in bulk or long-term hire, like maybe for a few weeks? Feel free to get in touch with us for a quote. We will also be more than happy to answer your questions.