Tent Rentals Youngstown, OH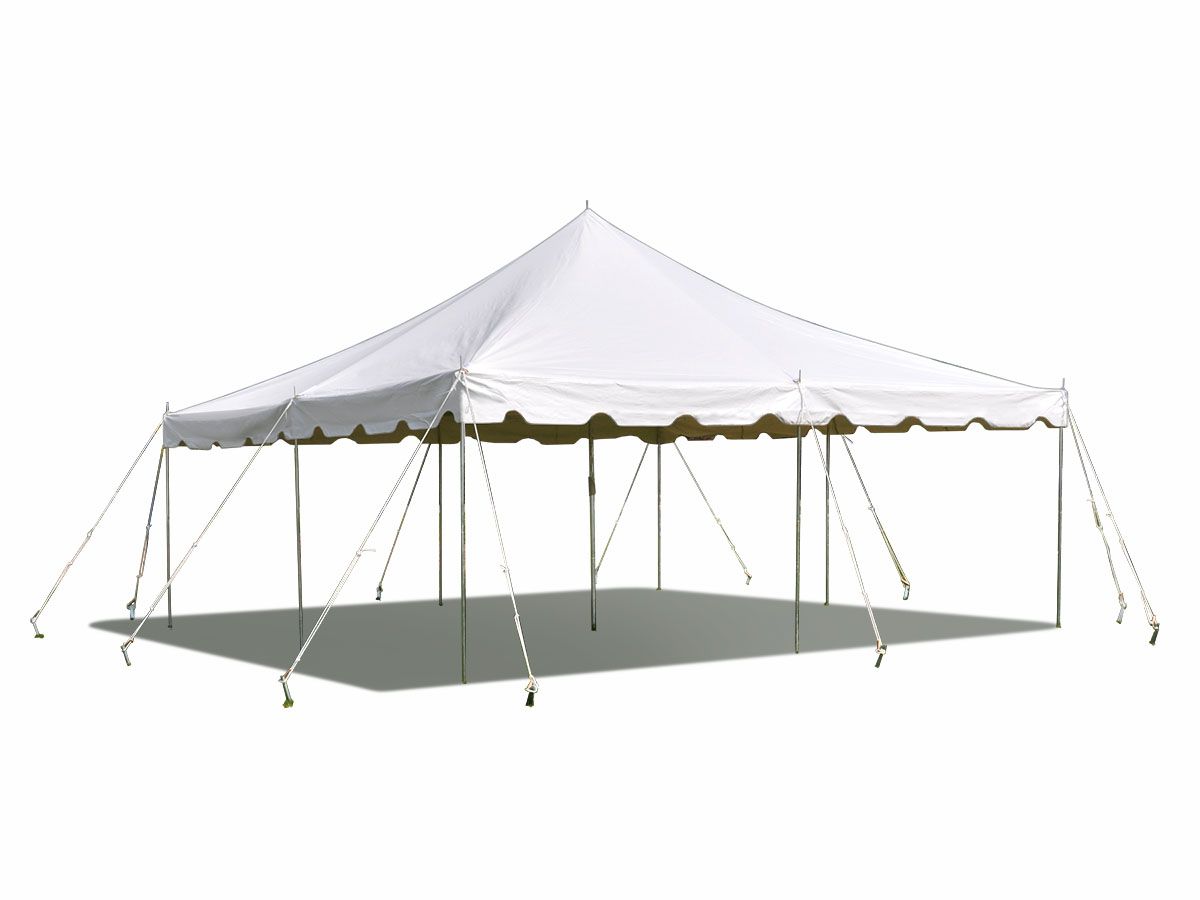 Confetti Event Rental Has You Covered
Confetti Event Rentals is one of the leading tent rental companies in Youngstown, Ohio. We are home to a large selection of excellent quality tents that offer protection from the elements and look great in the process.

Whether you are planning an outdoor wedding, a kids' birthday party, or any other event, we have quite a few different tents to choose from. Furthermore, we continue to add the latest, high-quality tents to our inventory, making it possible to hire the latest and greatest that might not be available anywhere else.

We invite you to browse through our inventory of tents online and book the one that suits your event the best.

Select Your Date
20X30 Commercial Tent 20 x 20 High Peak Frame Party Tent - White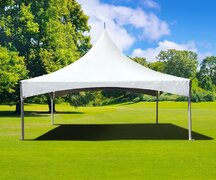 20'X30' Tent, Commercial Tent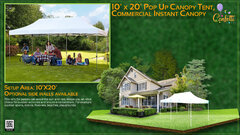 Large Inflatable Tent Commercial Tent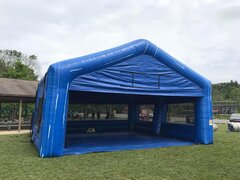 Tiki Inflatable Bar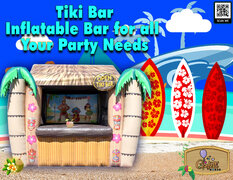 10' x 20' Pop Up Canopy Tent, Commercial Instant Canopy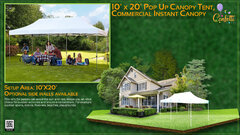 30'X40' Tent, Commercial Tent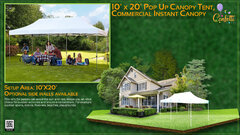 We take the quality of tent rentals Youngstown, OH seriously
To us, quality matters a great deal more than the price. That's why we've made sure that people who hire from us can be assured of excellent quality tents available at excellent rental prices. Our team goes the extra mile to ensure that every tent is in good shape before being transported and set up for your event.

Over the years, we have also ensured that our teams are in the best position to help people choose the right size and type of tent for their event(s). That's why if you are in doubt about which tent to choose or which size will work best, feel free to call us.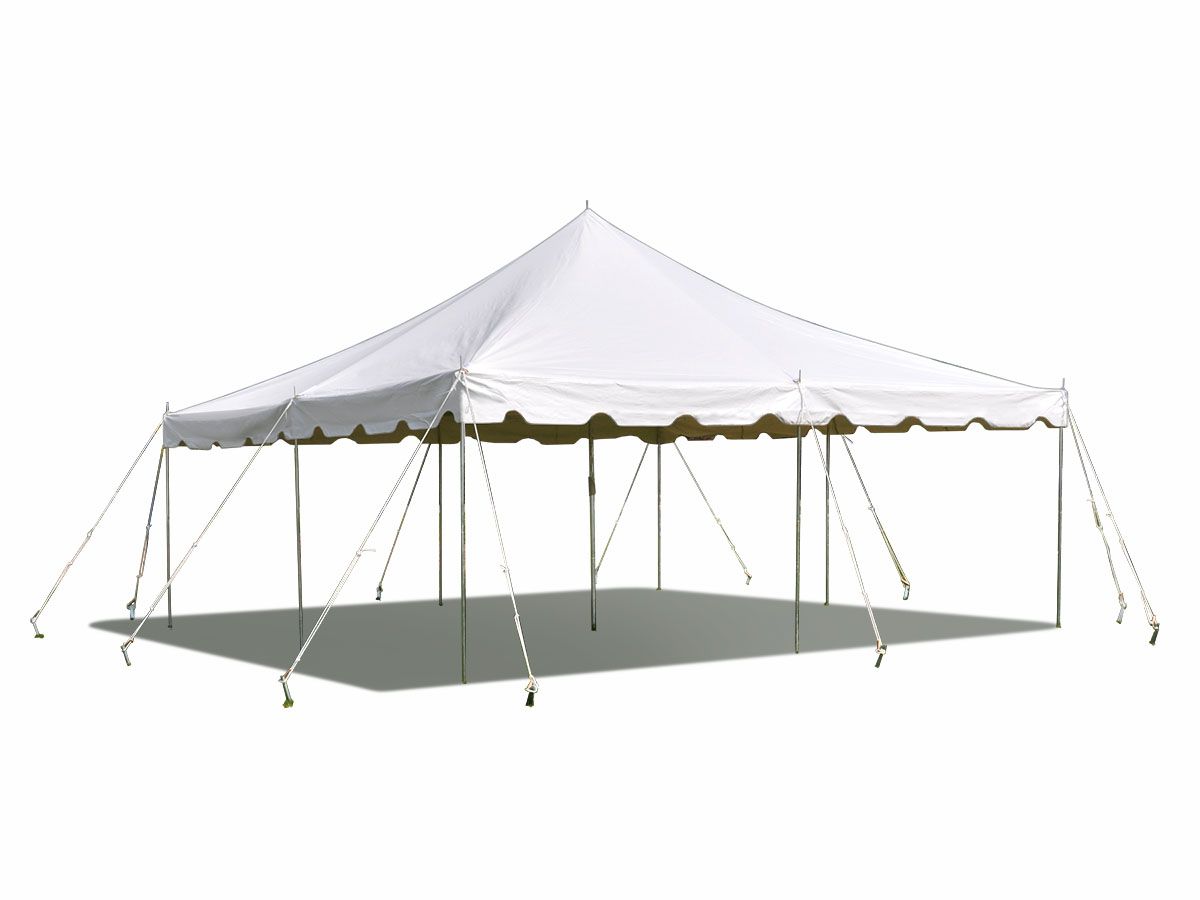 Product Title
Youngstown is perhaps best known for its romantic outdoor weddings. However, outdoor weddings are incomplete without the right tent. Fortunately, we have quite a few wedding tent rentals to choose from; below is a rundown of the most common types available:
Frame Tents – These happen to be amongst the most common party rentals because they can be used for just about any event, including weddings. The tents have a simple design but are weighted down using blocks that allow them to withstand being blown by strong winds. Since frame tents don't have center poles, they can be placed on any surface.
High-peak Tents – They are similar to frame tents, but high peak tents often use shortened center poles which create that characteristic peak. High-peak tents are perfect for weddings because they offer an excellent way to achieve an upscale appearance.
Pole Tents – The tents are pretty easy to set up and can be taken down in mere minutes since they are set up by stakes being driven in the ground. These are the ideal choice for weddings or parties in parks and gardens.
Structure tents – They resemble a permanent structure and can be set up for an extended period. If you are inviting several dozen people or even a hundred people to an outdoor wedding, then structure tent rentals are going to be perfect.
Why Choose Our Party Rental and Tent Rental?
Whether it is tables, chairs, or tents, we have a reputation that encompasses Northeast Ohio and beyond. We are known to be one of the most trusted resources for people planning or organizing weddings, private parties, or corporate functions. We have some of the best equipment that money can buy, and they are available at affordable rates.
Here are a few more reasons to choose our tent rental service:
Our event rental has a large selection of tents – You will find just about every type and size of the tent it is available right here. Our tents are available in multiple colors, sizes, and shapes. That's why whether you are planning a birthday party for the kids in the park or an outdoor wedding, you'll find the right tent.
Professional customer service – At Confetti Event Rentals, we care about our customers. That's why we've invested in making sure that they get the very best customer service. Whether you want to hire a tent and need to check its availability or need a quote for a large order, we are more than happy to assist. We can also arrange for delivery even if you are slightly out of Youngstown, OH.
No hidden costs – We offer standard prices across the board. There are no hidden taxes, surcharges, or service charges. In other words, you pay what you see on the website or what is quoted to you by our representative over the phone.
Delivered on time - We make it a point to deliver your tent rental several hours before the party is scheduled. Then a team will pay you a visit to set up the tent, again hours before the party. So, you don't have to worry about the event being delayed because we couldn't get things ready for you on time.
We handle the installation – Our tent rental service includes setting up the tent at your location. Our seasoned team of professionals will set up the tents and take them down after the party or wedding is over. That said, if permits are needed for the party, especially if it is taking place outdoors, then securing those permits is not something we can help you with. Nevertheless, we are still here to answer any questions you might have.
Many people may not be sure what type of tent or what size will work best for their party. While our website makes it possible to find and choose the right size and type of tent, sometimes speaking to someone works best.

Whether you have a question about our tent rental, need a quote or maybe want to hire other party rental items like lighting, tables, and chairs, feel free to get in touch with us today. You can also leave us a message directly via the website, and we'll give you a call.